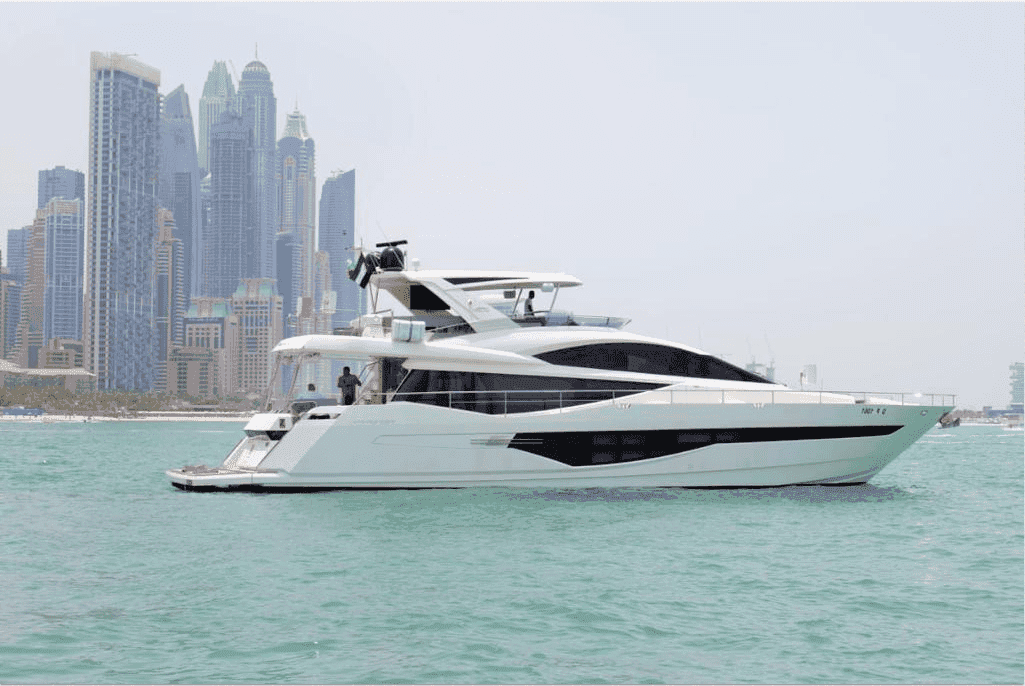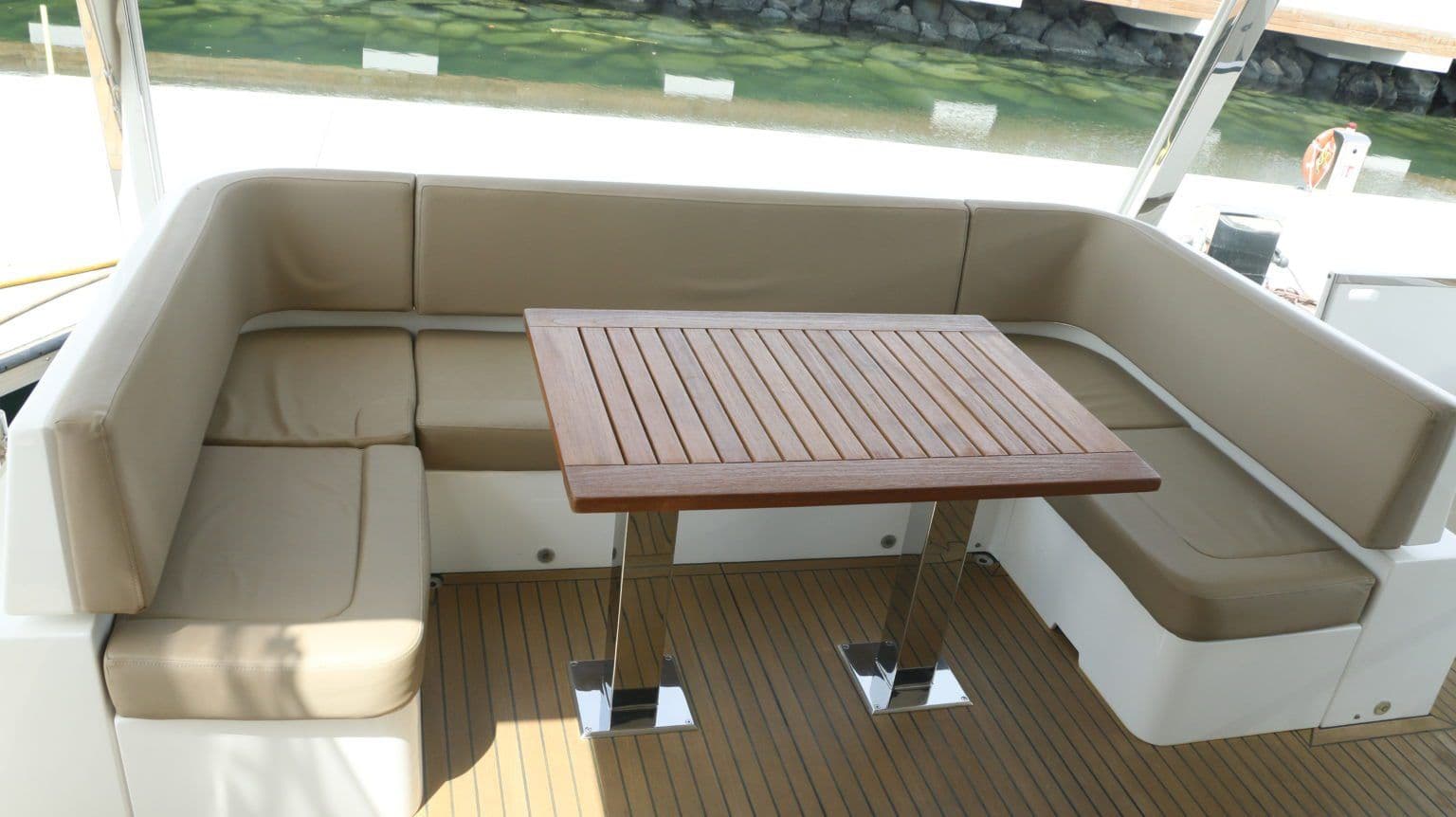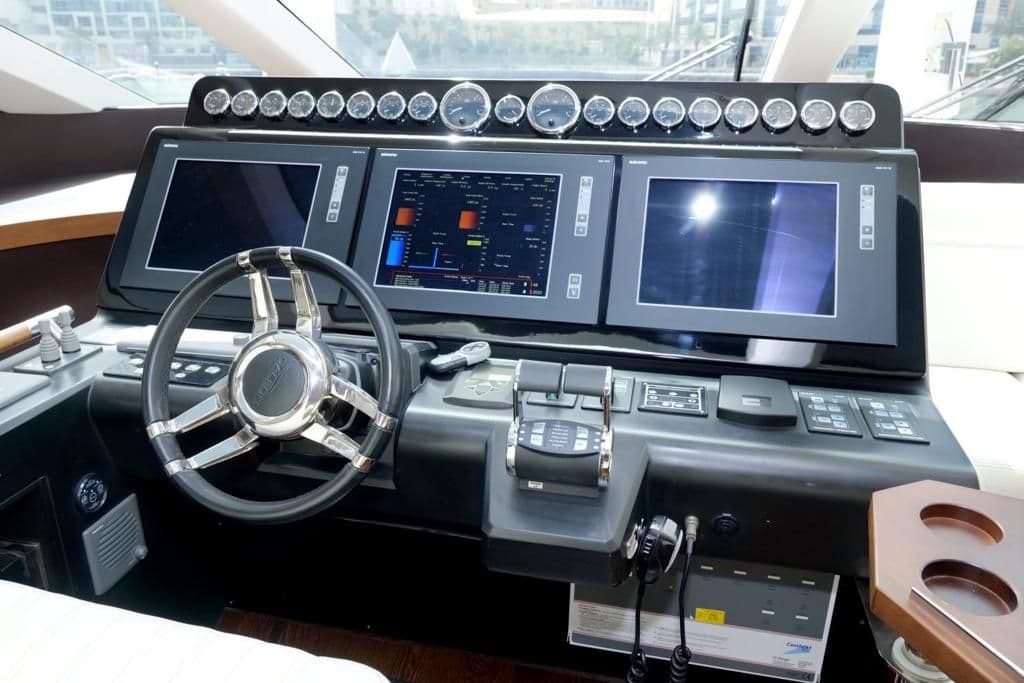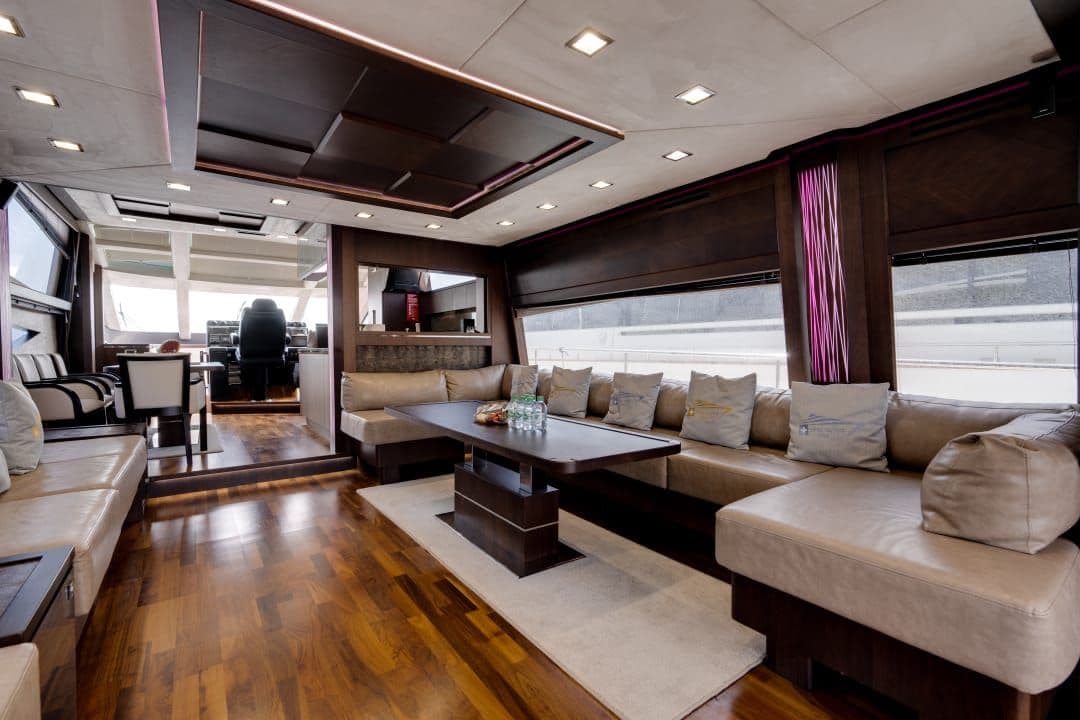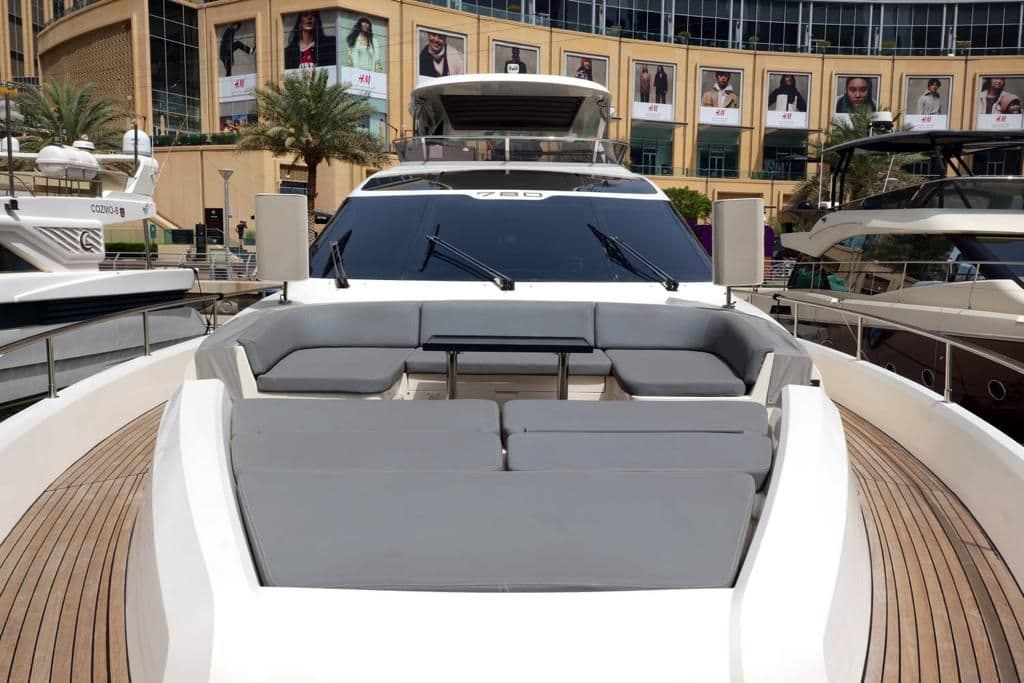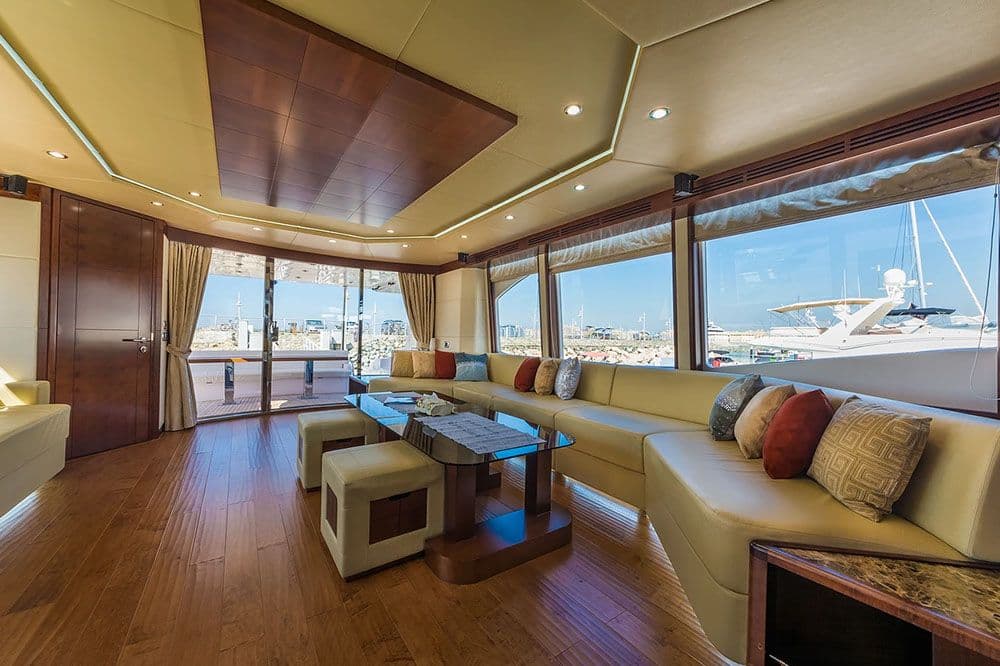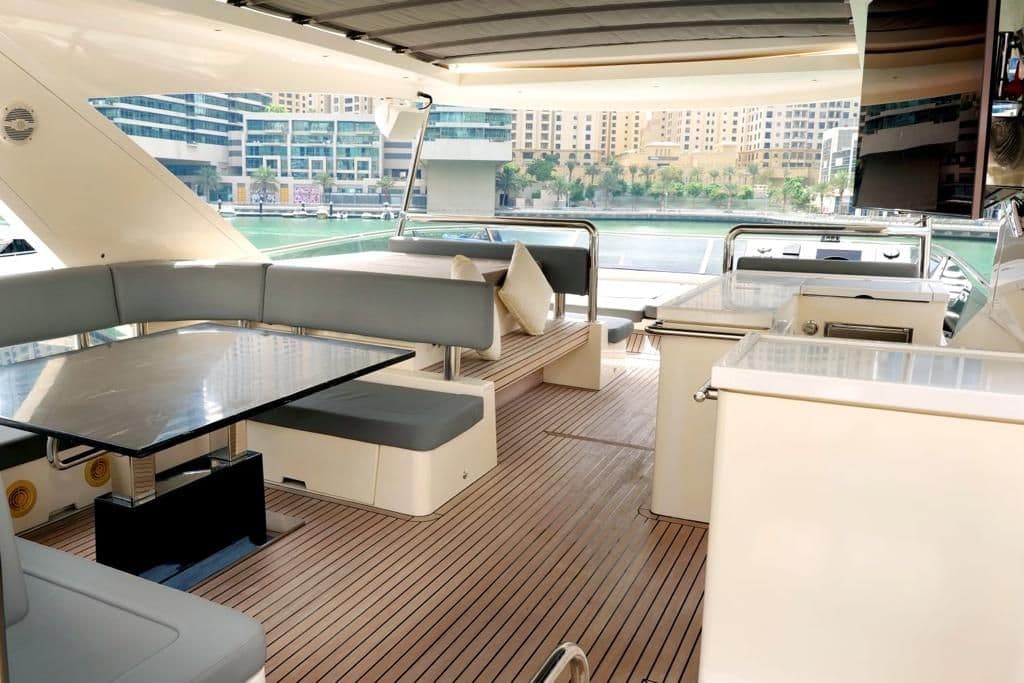 Embark on a voyage of luxury and elegance aboard the Galeon 78ft yacht in Dubai. Step aboard this magnificent vessel, meticulously crafted to provide an exceptional yachting experience. With its sleek design, contemporary interiors, and impressive amenities, the Galeon 78ft yacht sets the stage for an unforgettable journey on the sparkling waters of the Arabian Gulf.
The spacious deck areas offer breathtaking panoramic views of Dubai's iconic skyline and pristine coastlines. Relax in style as you bask in the sun on the expansive sun deck or unwind in the comfortable lounging areas. The yacht's interiors exude sophistication and comfort, with plush furnishings, modern amenities, and ample space for socializing or finding a moment of tranquility.
Indulge in gourmet dining experiences prepared by a professional chef, whether you choose to enjoy a lavish meal in the elegant dining area or dine al fresco under the stars. The Galeon 78ft yacht is perfect for intimate gatherings, corporate events, or celebrations, with ample room to entertain guests in style and luxury.
As you sail through Dubai's azure waters, marvel at the iconic landmarks that dot the coastline. Cruise past the Palm Jumeirah, admire the Burj Al Arab, and revel in the enchanting beauty of Dubai's captivating shoreline. With a professional crew ensuring your comfort and satisfaction, every moment aboard the Galeon 78ft yacht is tailored to exceed your expectations.
Immerse yourself in the ultimate yachting experience with the Galeon 78ft yacht in Dubai. It promises an extraordinary blend of luxury, style, and relaxation, creating cherished memories that will last a lifetime. Whether you're seeking a serene escape or a lavish celebration, the Galeon 78ft yacht is your gateway to an unforgettable voyage on the waters of Dubai.
Destinations
Palm Islands: One of the most famous tourist destinations in the United Arab Emirates is Palm Jumeirah Island. The island resembles a palm tree when viewed from afar or in the sky.
The World Islands: The World Islands project is an artificial archipelago built in the shape of a world map with continents developed, located about 6 kilometers off the coast of Dubai, United Arab Emirates.
Moon Island: The Moon Island, located 70 kilometers off the coast of Dubai, is named after its crescent-shaped moon. The island is known for its peace and privacy and is considered a hidden gem in Dubai.
Burj Al Arab: A luxury hotel on an artificial island near Jumeirah Beach, with a private beach connecting it to the mainland. The Burj is the world's only seven-star hotel. Its design resembles a ship's sail and is an architectural and aesthetic marvel.
Technical Specifications
Make

Gulf Craft

Model

Galeon 78ft

Length

78

Capacity

20 People

Category

Luxury

Rooms

4

Speed

20 knots

Minimum Hours

2 hours
Amenities
WiFi
Friendly Crew
Live BBQ
Kitchen
Room Service
Sun Bed
Entertainment
Air Conditioning
Fishing Gears
Sail in Luxury
Book your journey with our luxury yacht rentals now